Car Accident Caused by Medical Emergency in Rhode Island: Who's Liable?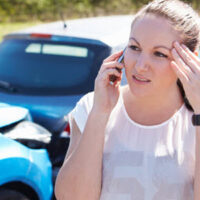 If a motorist has a heart attack, stroke, or another sudden medical emergency while driving, is he or she responsible for the damages suffered by other parties as a result of losing control of the vehicle?
A recent car accident in Rhode Island has highlighted the question of liability in motor vehicle collisions caused by a driver's medical emergency.
If a medical emergency occurred while driving or you sustained injuries in a road accident involving a driver who lost consciousness, you need to speak with a Rhode Island car accident attorney from the office of Robert E. Craven & Associates to determine fault.
When a Medical Emergency Causes a Car Crash
People with chronic conditions such as heart disease, diabetes, epilepsy, and hypoglycemia have to deal with many challenges in their life.
On most days, these persons are able to function in the same way as perfectly healthy individuals. But under some conditions, these people are subject to fainting, blackouts, and other types of medical emergencies.
But does it mean that you should not be allowed to operate a vehicle just because you have heart disease, diabetes, or suffer from epilepsy?
If one of these medical emergencies occurs when you are driving a vehicle, are you considered at-fault the same way as if you exceeded the speed limit or engaged in distracted driving?
As with other legal issues in Rhode Island's personal injury law, the answer is based on multiple factors.
Man Killed in Rhode Island Car Accident After a Medical Emergency
On September 28, 2019, a driver died after his vehicle struck a tree in Rhode Island. The accident occurred on South Kingstown road, as reported by NBC 10 Boston.
The man, who was identified as a 65-year-old Massachusetts resident, reportedly had a medical emergency while driving. After losing control of the vehicle, his car went off the road and struck a small tree and some shrubs.
Paramedics performed CPR before the man was taken to South County Hospital. The Massachusetts native was pronounced dead at the hospital. Police investigation showed that neither speeding nor intoxication was involved in the auto accident.
The 65-year-old motorist may have had a medical emergency while driving.
Liability in Sudden Emergency Motor Vehicle Accidents
So, are you negligent if you blacked out while driving? Will you be held legally responsible for the damages if you lost control of your vehicle due to a medical emergency? In crashes where a driver loses control of the car due to a medical condition, negligence becomes a question of reasonableness.
Rhode Island follows the "sudden emergency doctrine," under which persons facing "sudden and unexpected" events that require "immediate action" cannot be held to the same standard of care as individuals who do not have to deal with sudden emergencies.
Still, the jury will have to evaluate a driver's conduct at the time of the crash when determining fault in sudden emergency cases. The evaluation must determine whether the motorist who had a medical emergency was acting reasonably.
The Driver's Reasonableness in Medical Emergency Crashes
Since the court must look into the driver's reasonableness in car crashes caused by a medical emergency, the "sudden emergency" defense is not applicable if:
The medical emergency was foreseeable;
The sudden emergency event was not unexpected or spontaneous; or
The driver was negligent in taking "immediate action."
One of the cornerstones of the "sudden emergency doctrine" is that a medical emergency must be unforeseeable. In other words, if a driver was warned by his or her physician that there was a significant risk of fainting while operating a vehicle, but the motorist continued to drive, it would be challenging to prove that the loss of consciousness was unforeseeable.
Under the doctrine, when a medical emergency was foreseeable, the driver is not only negligent in driving, but may also be negligent for getting behind the wheel in the first place.
Speak with a Rhode Island car accident attorney from the office of Robert E. Craven & Associates to discuss your case and establish the sudden emergency defense if you lost consciousness or had another medical emergency while driving. Call at 401-453-2700 for a free case evaluation.
Resource:
nbcboston.com/news/local/Mass-Man-Killed-in-Rhode-Island-Car-Crash-561885441.html
https://www.robertecravenlaw.com/rhode-island-trucking-companies-sentenced-for-ordering-truck-drivers-to-falsify-safety-reports/