Fatal Head-On Crash in Rhode Island Reminds of the Perils of Frontal Collisions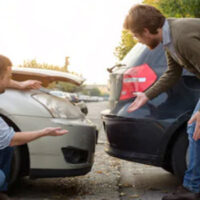 Any vehicle collision can cause injury, but head-on crashes – also known as frontal impact collisions – are associated with serious injuries and a heightened risk of death. According to the Insurance Institute for Highway Safety, head-on collisions are associated with a 58% fatality rate for drivers and passengers in either vehicle.
Given the severity of head-on car accidents, medical expenses associated with injuries caused by frontal collisions can skyrocket in an instant and eat into your savings. That is why you need a Rhode Island car accident attorney by your side.
Here at Robert E. Craven & Associates, our detail-oriented lawyers provide top-notch legal services to obtain the most favorable settlement amount on behalf of our clients.
Deadly Head-On Accident Kills 3 Rhode Islanders
Rhode Island residents were recently reminded of the dangers posed by wrong-way driving, distracted driving, and other factors that lead to head-on accidents. According to the Providence Journal, three Rhode Islanders were killed in a two-vehicle head-on collision on I-95 northbound.
An 85-year-old Rhode Island native was declared dead at the scene, while an 83-year-old and 17-year-old died later that day in the hospital.
As a result of the head-on accident, two other people were seriously injured, and another person sustained minor injuries. The police have yet to determine how the collision involving three deaths occurred.
Causes of Head-On Collisions
In some cases, head-on car crashes occur due to a mechanical reason like brake malfunction. In that case, the injured parties could recover damages from the auto manufacturer or mechanic responsible for inspecting and maintaining the vehicle.
More often than not, however, head-on crashes occur as a result of driver error. The following behaviors can cause a motorist to drive on the wrong side of the road or cross the median line into oncoming traffic:
Distracted driving
Drunk driving
Unsafe passing
Drowsy driving (falling asleep behind the wheel)
Driver inexperience
Entering a highway in the wrong direction
There are also crashes that occur after a driver swerves into the opposite lane when attempting to avoid hitting an animal or debris.
Fault in Head-On Crashes
Since head-on collisions are rather destructive in their nature, and the impact can send each car in different directions, it is difficult to establish fault. Your Rhode Island car accident attorney will retain the services of accident reconstruction experts to determine what caused the collision and whose fault contributed to the frontal impact crash.
Your lawyer will determine whether you can get compensated through an insurance company or have to file a personal injury lawsuit against the at-fault motorist. Either way, the burden of proof is on you to establish the manner in which the other driver was negligent or careless.
If your own negligence contributed to the collision, your recovery could be reduced by the percentage of your fault. Rhode Island, like many other states, follows a pure comparative fault system, which means your compensation can be reduced by your degree of negligence.
For example, if your head-on accident occurred because you got distracted, but the other motorist was driving while intoxicated, your compensation may be reduced by half.
Contact our Rhode Island car accident attorneys from Robert E. Craven & Associates to establish fault in your particular case. Call at 401-453-2700 to get a free consultation.
Resources:
iihs.org/topics/fatality-statistics/detail/passenger-vehicle-occupants#Crash-types
providencejournal.com/news/20191010/three-rhode-islanders-killed-in-deadly-head-on-crash-on-i-95-three-more-injured
https://www.robertecravenlaw.com/car-accident-caused-by-medical-emergency-in-rhode-island-whos-liable/