Is It Illegal to Drive a Car Under the Influence of Marijuana in Rhode Island?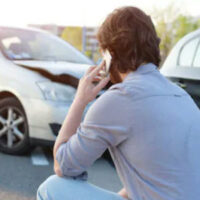 Rhode Island has decriminalized marijuana and legalized its medicinal use, but does it mean that drivers in the state can get behind the wheel of a motor vehicle after smoking weed?
Not really. Despite the cannabis-friendly laws in Rhode Island, it is still illegal to drive a car under the influence of marijuana. The state of Rhode Island prohibits motorists from operating a vehicle under the influence of any controlled substance, including weed. In fact, it is even against the law to possess cannabis while driving.
Speak with a Rhode Island car accident attorney if (a) you were involved in a vehicle crash with a marijuana-impaired driver, or (b) you were under the influence of cannabis when the collision occurred.
Rhode Island Man Charged with DUI of Marijuana
WPRI reported that a 20-year-old man from North Providence was charged with driving under the influence of marijuana after a car accident last month that caused serious injuries to four people.
The man, who was among those taken to a hospital after the October 25 crash, turned himself in on Monday, November 25, exactly one month after the marijuana DUI accident.
The marijuana-impaired driver's vehicle caught fire after it slammed into a tree on Victory Highway. His three 18-year-old passengers suffered severe injuries and were taken to Rhode Island Hospital. The police investigation revealed that "extreme speed" contributed to the crash.
The driver was arrested on three counts of driving to endanger (personal injury) and one count of operating a vehicle under the influence of marijuana, causing serious bodily injury. He was later released on $10,000 personal recognizance and prohibited from operating a motor vehicle.
What is the Difference Between DUI of Marijuana and Alcohol?
Unlike drunk driving accidents, where Rhode Island law provides a "safe zone" for consuming alcohol – the blood alcohol content (BAC) can be lower than .08% or .04% for drivers of commercial vehicles – the state law has a zero-tolerance policy when it comes to marijuana.
In Rhode Island, if the chemical test reveals any trace of THC and its metabolites, the motorist will be arrested for marijuana DUI. The only exception is if the driver is legally registered to use cannabis for medicinal purposes.
In Rhode Island, a police officer can order a driver to provide a sample to look for traces of marijuana if the officer has reason to believe that the motorist may be impaired. The driver cannot refuse the test under the Implied Consent laws in Rhode Island.
However, there are many issues with testing marijuana DUI. Unlike alcohol, which is water-soluble, cannabis is fat-soluble, which means the controlled substance leaves the system at rates that differ significantly from one individual to another.
Many factors influence the length of time THC and its metabolites remain in a person's body after smoking weed. Such factors as the amount of body fat, gender, and whether the driver uses marijuana regularly or occasionally affect the length of time that THC remains in the system.
You are entitled to financial recovery regardless of whether the marijuana-impaired driver was charged with DUI. Contact a Rhode Island car accident attorney at Robert E. Craven & Associates to investigate your situation, evaluate your damages, and pursue compensation on your behalf. Call at 401-453-2700 for a consultation.
Resource:
wpri.com/news/local-news/northwest/man-20-charged-with-driving-high-causing-burrillville-crash/
https://www.robertecravenlaw.com/drunk-driving-accidents-during-the-holidays-in-rhode-island/