Is It Legal To Eat While Driving in Rhode Island?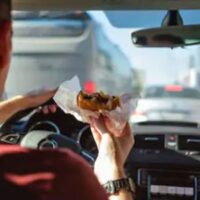 Most drivers in Rhode Island have eaten while operating a vehicle at least once. Some of them think doing so is against the law, while others could not care less about this being an illegal activity. But is it?
Is it illegal to eat while driving in Rhode Island? No. Rhode Island law does not explicitly prohibit eating while behind the wheel, but that does not mean that you should do it. Avoid eating while driving to prevent distracted driving accidents.
After all, eating can be just as distracting as trying to pull out a phone from your pocket to answer a call. And while handheld phones are illegal in the state of Rhode Island, why is it legal to eat while driving?
Nonetheless, if you were in a car accident involving a motorist who ate at the time of the collision, you may be able to prove that the distracting activity contributed to the crash. Contact a Rhode Island distracted driving accident attorney from Robert E. Craven & Associates to discuss your case.
Is Eating While Driving Illegal in Rhode Island?
Yes, eating can be just as distracting as talking on a handheld cellphone because it takes your attention away from the road. When eating, you are unable to focus on the primary task of driving, which could potentially result in a motor vehicle collision.
So, does it mean that a police officer in Rhode Island cannot stop you if he sees you eating while driving? In most cases, yes, that's exactly what it means. There is no legislation in Rhode Island that specifically prohibits drivers from eating while operating a vehicle.
Just because eating is considered a "legal distraction" in Rhode Island, it does not necessarily mean that doing so is safe. In fact, eating while driving significantly increases the risk of being in a car crash. Moreover, eating can cause you to drive erratically, which could get you a citation. What's worse, this distracting activity can potentially lead to a car accident.
If you are very hungry, it is a safer idea to eat at home, in the parking lot, or eat out at a restaurant.
What is Considered Distracted Driving?
To understand how eating may affect your driving ability, let's define what is distracted driving. Under Rhode Island law, "distracted driving" is any activity that takes the driver's attention away from driving. Distractions take various forms:
Manual, which is participating in any activity that takes your hands off the wheel. These activities include eating, reaching for an object, texting, and adjusting the radio.
Visual, which is an activity that requires you to take your eyes off the road. For example, looking for an object inside the vehicle, looking in the mirror to brush one's hair or apply makeup, or looking at passengers or surroundings outside the car.
Cognitive, which is any activity that involves taking your mind off the task of driving (e.g., daydreaming, getting lost in one's thoughts, being frustrated, or diverting one's attention to any other mentally demanding task.
Most types of distracting activities take multiple forms. For example, talking on a cellphone involves all three. Currently, Rhode Island's distracting driving laws are focused primarily on the distractions caused by texting and other forms of using a handheld phone.
Eating while driving is not prohibited by law in Rhode Island, but if another driver ate at the time of the crash, you might be able to prove that eating caused that driver to drive erratically. Consult with a Rhode Island distracted driving accident attorney at Robert E. Craven & Associates to determine the distracted driver's fault in your personal injury case. Call at 401-453-2700 for a free consultation.