Who's at Fault in Rear-End Accidents: The Lead or Rear Driver?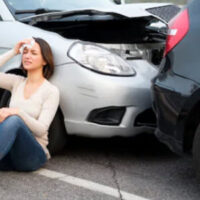 Rear-end accidents are among the most common types of car crashes in Rhode Island and all across the country. Each year, there are about 1.7 million rear-end collisions on U.S. roads, accounting for nearly 30% of all crashes in the country.
While many rear-end collisions are minor fender benders, others can result in severe injury. In most rear-end car accidents, the driver in the back is presumed to be at fault for causing the collision. However, the lead driver could also bear responsibility for the accident. Speak with a Rhode Island car accident attorney to determine fault in your rear-end collision.
Is the Rear Driver Automatically at Fault for the Rear-End Crash?
As a matter of fact, it is true that rear drivers are at fault for causing the crash in the vast majority of rear-end collisions. Often, drivers in the back crash into vehicles in front because they fail to:
Maintain a safe following distance between the vehicles
Keep their eyes open (drowsy driving)
Focus their attention on the road (distracted driving)
Adjust their driving habits to road or weather conditions
Obey other traffic laws
Rhode Island law requires all motorists to maintain a safe distance between vehicles so that there is enough time to slow down or stop your vehicle in order to avoid a collision. Failure to maintain a safe distance is one of the most common causes of rear-end crashes in the United States.
When the rear driver's negligence can be proven, the motorist will be held liable for the resulting injuries and damages. However, drivers in the back are not automatically at fault for rear-end crashes. All car accidents are unique, and rear-end collisions are no exception.
When the Lead Driver is Responsible for Causing the Rear-End Accident
The lead driver or other parties can be held partially or fully responsible for a rear-end crash if there is evidence to prove that they failed to follow traffic laws or acted in a negligent manner. The driver in front may be deemed at fault for causing a rear-end crash when they:
Slam on the brakes unexpectedly
Begin driving in reverse suddenly
Signal their intention to make a turn but do not execute the maneuver
Drive with malfunctioning or inoperative brake lights
Get a flat tire but fail to pull over
Can Both Drivers Be at Fault in a Rear-End Accident?
Rhode Island is a pure comparative negligence state. It means that multiple parties who share fault for an accident can recover damages in proportion to their degree of fault. In Rhode Island, your compensation is reduced by the percentage of your fault.
Thus, both drivers can be held responsible for causing a rear-end collision if their negligence contributed to the accident. For example, if the motorist in front is found 30% at fault, he will recover 70% of the total amount of damages. The driver in the back will be barred from recovery because their percentage of fault exceeds 51%. In Rhode Island, you cannot recover any damages unless you are less than 50% at fault.
Contact our Rhode Island car accident lawyers at Robert E. Craven & Associates to investigate your rear-end collision and determine fault in your particular situation. Call 401-453-2700 to schedule a case review.
Resource:
washingtonpost.com/news/dr-gridlock/wp/2015/06/08/there-are-about-1-7-million-rear-end-collisions-on-u-s-roads-each-year-heres-how-to-stop-them/
https://www.robertecravenlaw.com/recovering-damages-as-a-passenger-injured-in-a-car-accident-in-rhode-island/