Who's Liable in Chain-Reaction Crashes in Rhode Island?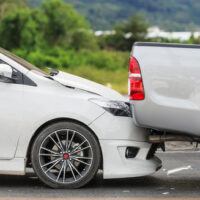 Although any vehicle crash can cause serious injuries, chain-reaction car accidents tend to be even more catastrophic because they involve three or more cars. Determining fault in a multi-vehicle or chain-reaction crash can be complicated, especially if you are in a pure comparative fault state such as Rhode Island.
Here at Robert E. Craven & Associates, our Rhode Island car accident attorney is well-versed in handling and litigating cases that may involve multiple liable parties. Typically, victims of chain-reaction accidents need more legal resources and expertise to successfully pursue a personal injury claim.
Chain-Reaction Accident in Rhode Island
One such crash has recently occurred on Interstate 195, near the Rhode Island border. According to The Sun Chronicle, the deadly chain-reaction collision involved four cars, killing a 16-year-old girl and injuring eight other people.
The girl was a passenger in a 2001 Chrysler 300, which was hit in the rear by a 2019 Chevrolet Silverado driven by a 43-year-old man. The initial collision occurred in the middle eastbound lane of the I-195. The teenager, who was wearing a seat belt, was pronounced dead at Hasbro Children's Hospital in Providence.
The collision between the Chevrolet and Chrysler set off a chain reaction in which the latter slammed into the rear of a 2005 Acura TSX. The Acura, on its part, was pushed into the back of a 2017 Lexus NX, which had four occupants.
The Chrysler was driven by a 40-year-old New Bedford woman, who suffered severe but non-life-threatening injuries. There was also a 14-year-old passenger in the car who suffered minor injuries. All four occupants of the Acura also ended up with minor injuries. The driver of the Chevrolet, along with his 17-year-old female passenger, were hospitalized with non-life-threatening injuries.
The driver of the Lexus – a 34-year-old Providence man – also suffered an injury. The cause of the chain-reaction accident remains unclear. A large percentage of multi-vehicle crashes in Rhode Island and elsewhere in the country involve distracted driving and drunk driving.
Liability in Rhode Island Multi-Vehicle, Chain-Reaction Crashes
A chain-reaction accident can involve three, four, five, or more cars hitting one another at different angles, which is why it is difficult to determine liability. Since Rhode Island follows the doctrine of pure comparative negligence, multiple parties may bear the responsibility.
Due to the fact that a chain-reaction crash involves multiple vehicles, you can be blamed for causing or contributing to the collision even if you obeyed traffic rules. That is why you need a knowledgeable Rhode Island car accident attorney to avoid being sucked into the blame game.
After a chain-reaction crash, fault can be established by gathering such evidence as:
Physical evidence at the scene (vehicle debris, skid marks, car damage, etc.);
Surveillance camera footage;
Eyewitness accounts; and
Police report.
In most multi-vehicle collisions, multiple parties bear the responsibility for the crash. However, often, only one driver is held liable for setting off the chain-reaction accident. Let our results-driven attorneys at Robert E. Craven & Associates investigate your case to determine liability in the chain-reaction crash. Call at 401-453-2700 to evaluate your case.
Resource:
thesunchronicle.com/news/local_news/teenage-girl-dies-after-chain-reaction-crash-on-i-/article_76fff59d-d3eb-5726-87e5-d87729cc6687.html
https://www.robertecravenlaw.com/whos-at-fault-in-a-backing-out-of-driveway-accident-in-rhode-island/